Create your

digital hive

with WiredExperience
By registering your Academy on WiredExperience you will also be able to create its digital hive on SweetHive.

Your school is a complex organisation that involves a lot of people with different roles. With the collaborative platform SweetHive, specialised in the management of organisations and in making people collaborate smoothly, you will be able to organise the communication by contexts, in a clear and efficient way. What does SweetHive offer you?
1. YOUR ACADEMY, YOU DIGITAL HIVE
Your school will have its own space where you will be able to create all the contexts you will need. WiredExperience models itself on the way the school is organised, where it is always possible to integrate the applications already present and turn your digital hive into the only workplace for education.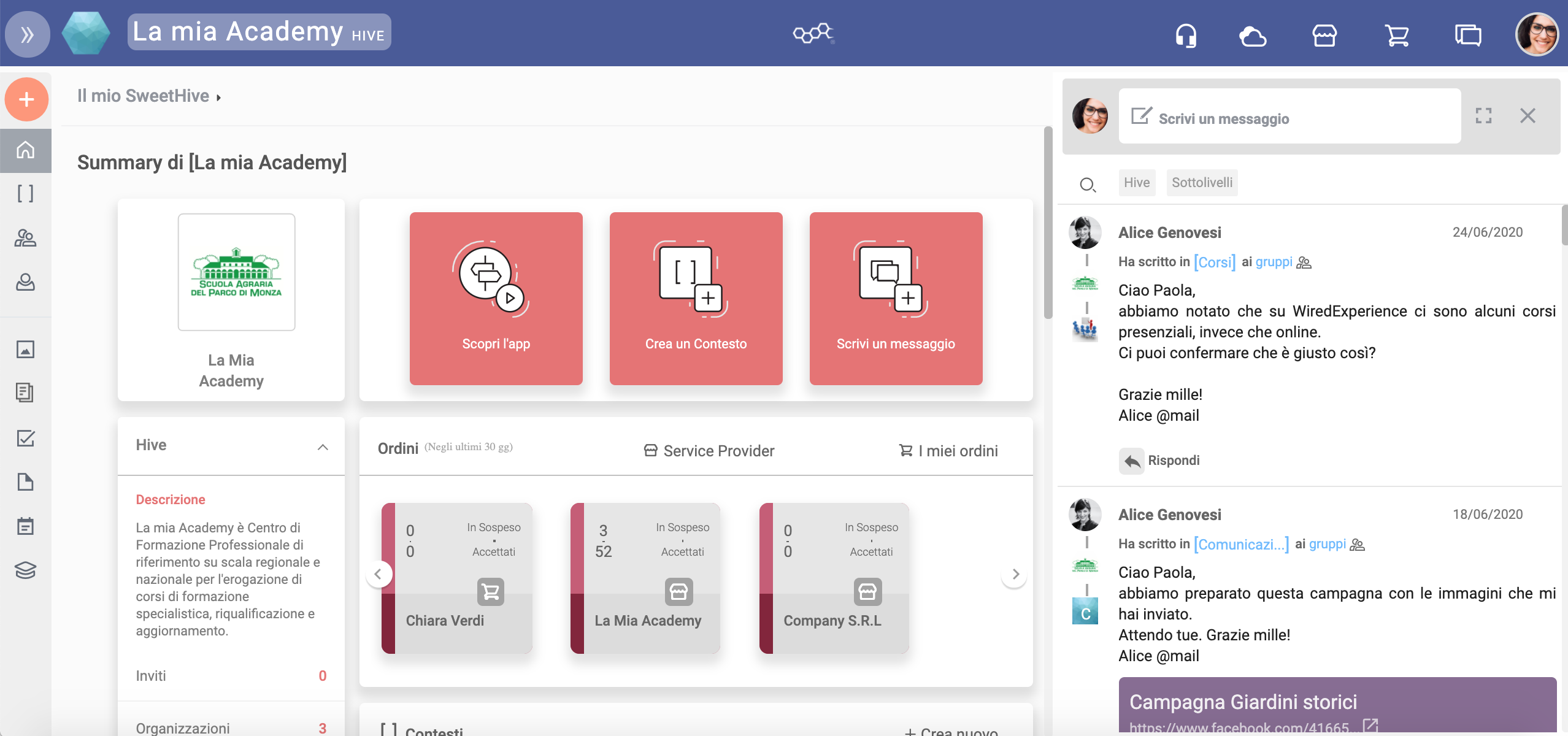 2. THE CONTEXTS: CONVERSATIONS IN THE RIGHT PLACE
SweetHive is the only collaborative platform that is organised by contexts, which are in turn organised hierarchically. Each context is a different sharing environment, unique, because specific to the topic and the people that live in it.

In different words, contexts are needed to share message, documents and manage all the content in a simple and reasoned way.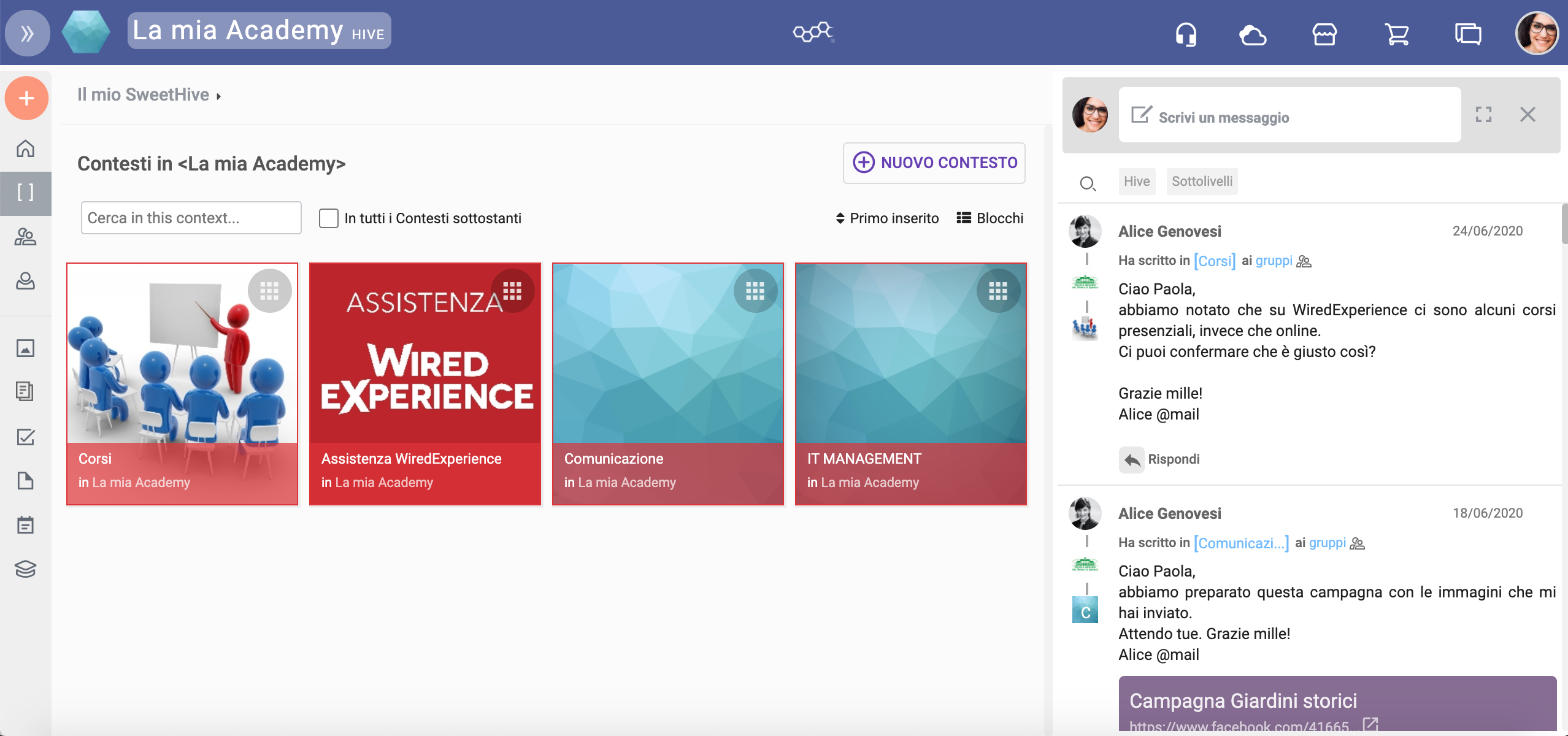 3. THE GROUPS: SHARE ONLY WITH WHO YOU WANT
Within a digital hive every person can be included in different groups. Each group can then be activated in one or more contexts that create the hive.

For example, the teachers groups can be activated in different contexts, that is the classes of your school. This way, every teachers belonging to the group will be able to interact in the dedicated area to a single class and with the other enabled groups.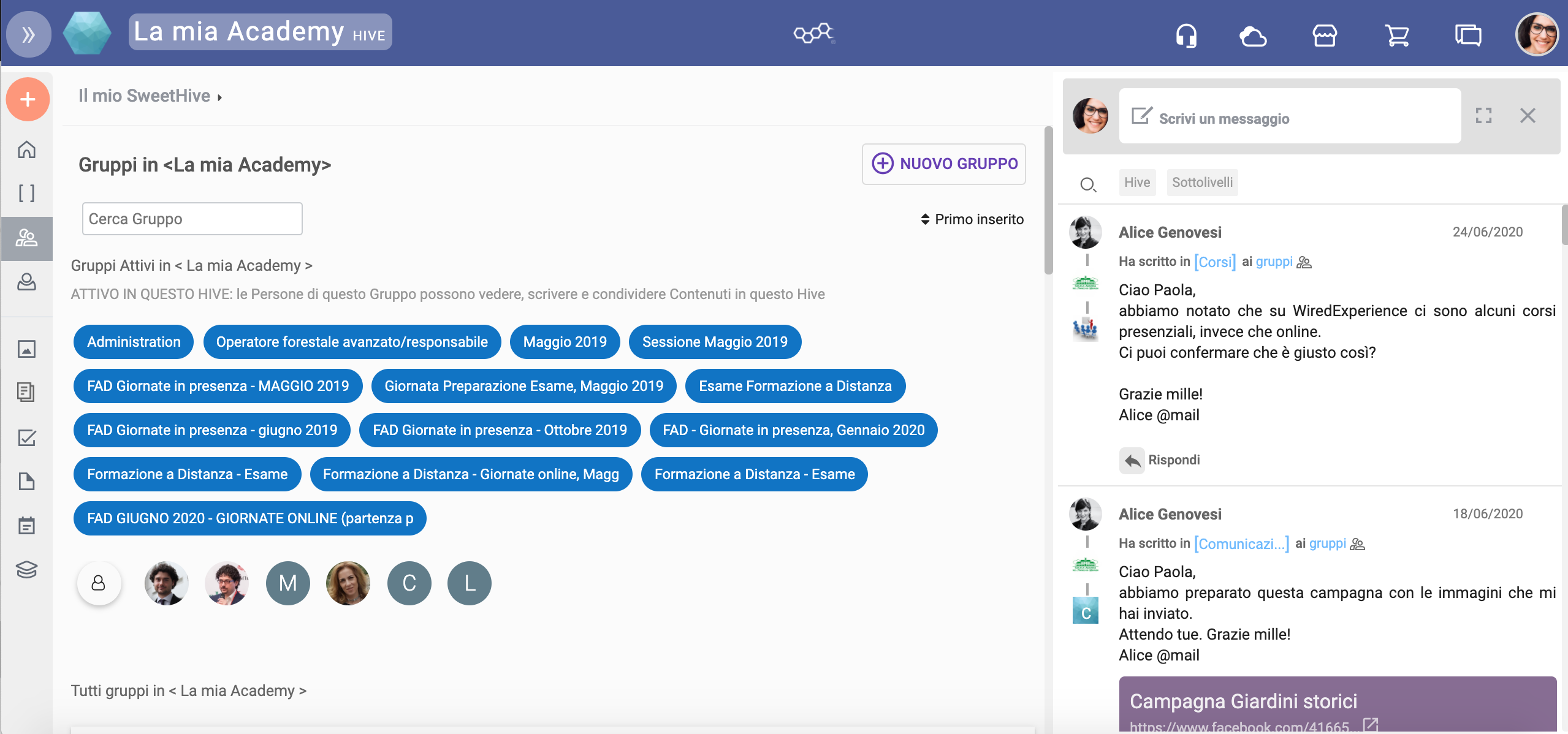 4. ONE SINGLE SMART CHANNEL WITH EVERYTHING YOU NEED
One single page for your digital hive that collects all the shared information within all its contexts.
So to better understand what happens within a context, you will be able to navigate in each of its page and go back and forth any time you need. This will allow you to always have only one single channel of communication to follow!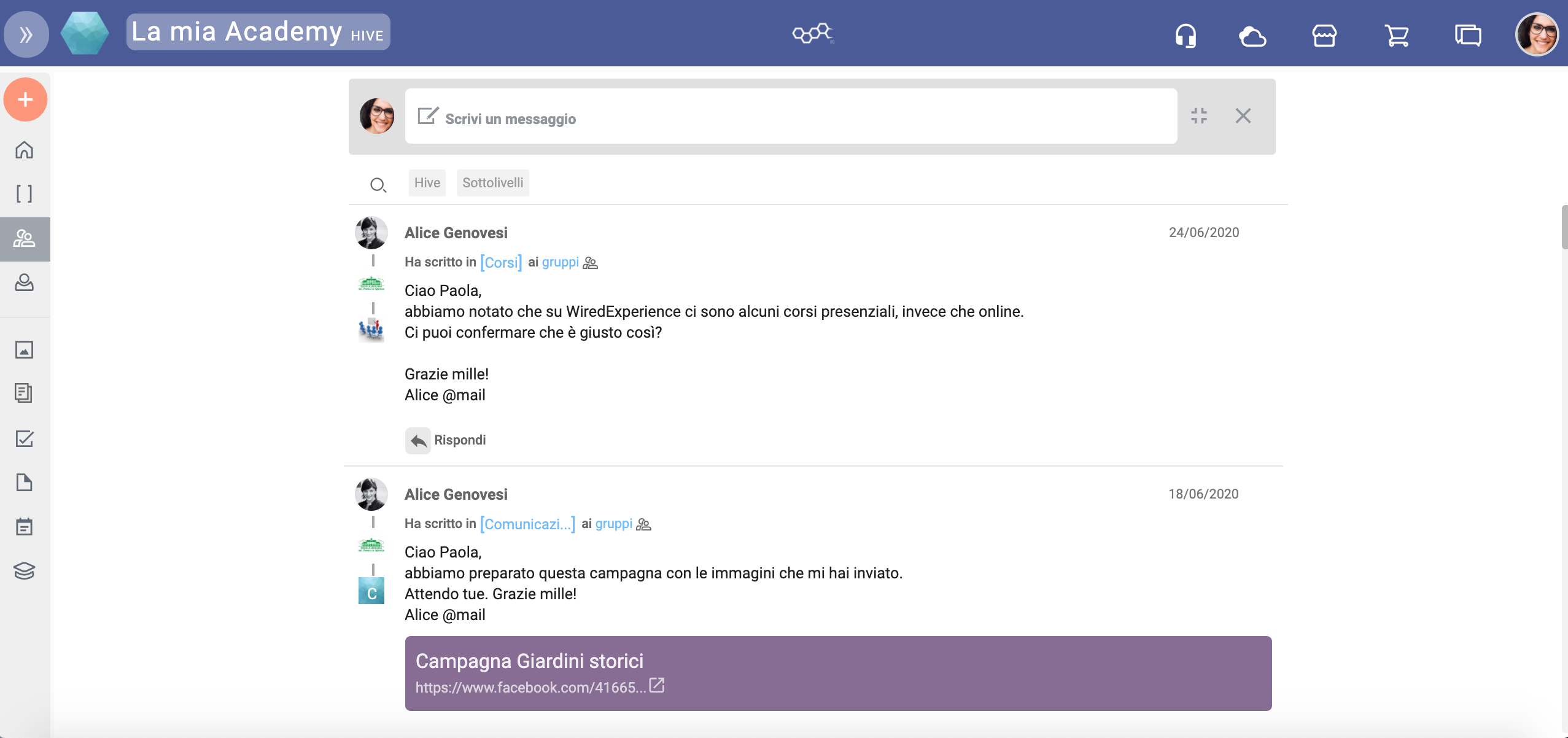 5. MANAGEMENT OF TEACHERS
The platform allows you to follow also all the paperwork tied to each teachers:
creating and sending automated engagement letters

connecting everything with your management software thanks to our API

manage the registry feature

And much more!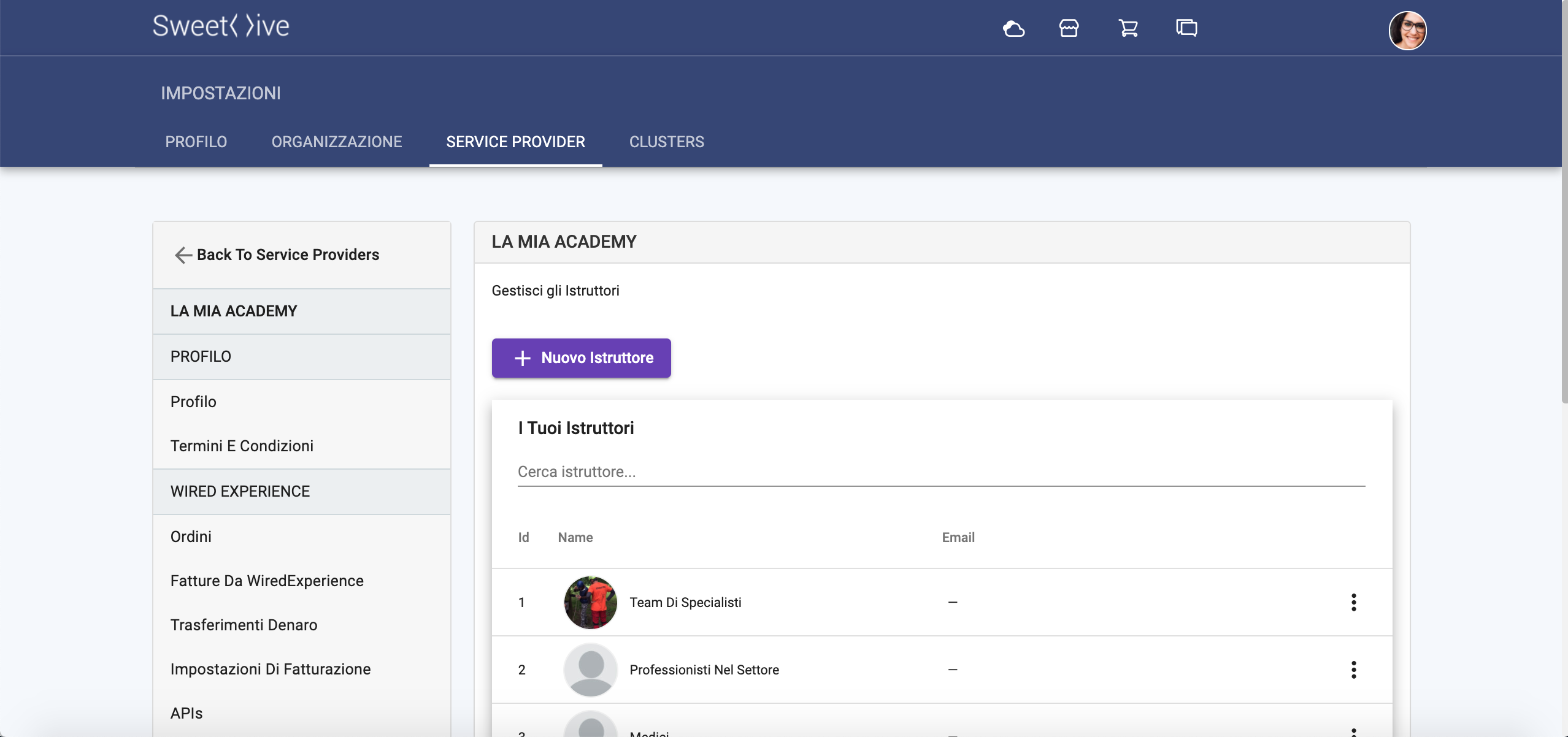 6. ONE STUDENT, ONE DIGITAL PERSONAL SPACE
You will be able to organise each class in a different context. Each student will have their own digital space with a history of the purchased courses. This way the teachers will be able to share there the messages, documents and information in full respect of privacy and only with the people they want to involve.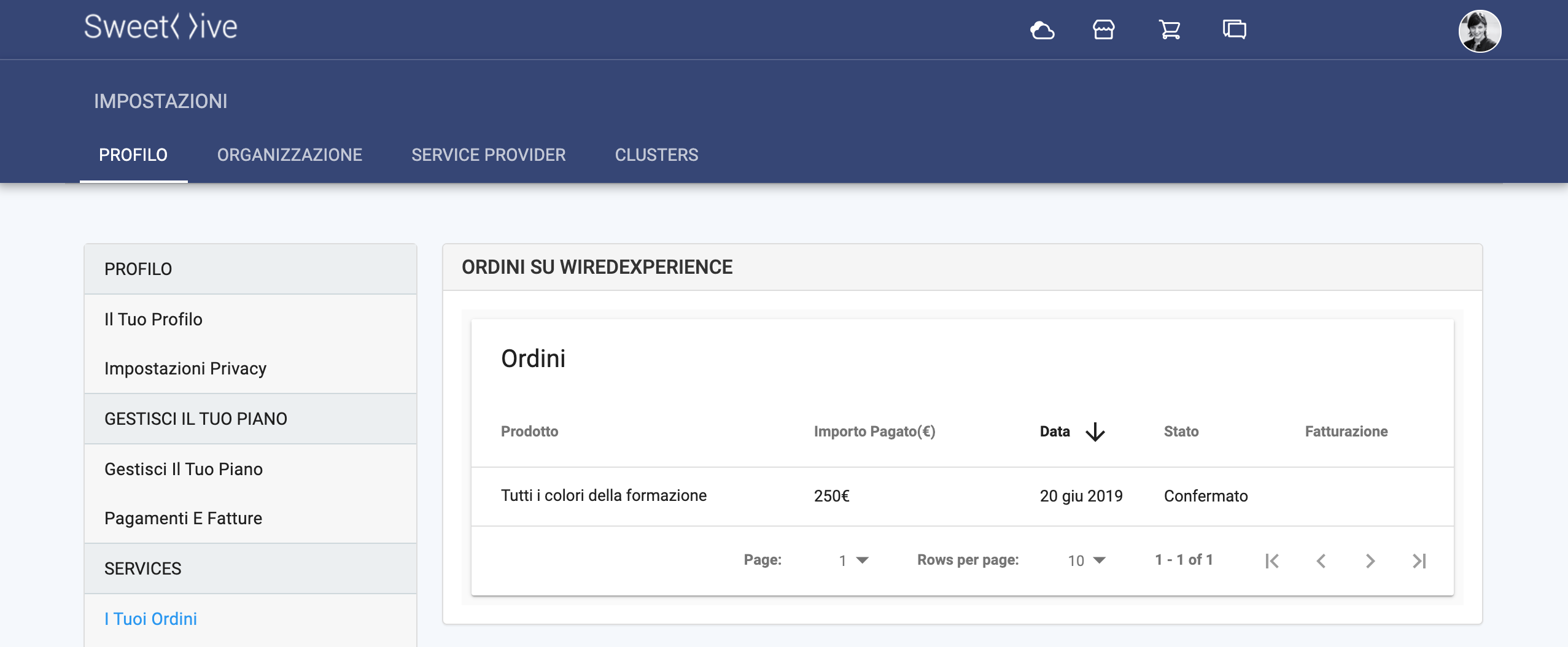 Why WiredExperience for your Academy

Optimisation of processes
Optimise administrative tasks to increase the educational offer and the sales margins of your courses.

Better budget management
All the low added value processes are digitalised so that you can focus all your energy and your collaborators' on the value of education and customer care.

A cutting-edge editor
Easy to plan courses and to facilitate communication among the collaborators of a complex organisation such as the school.
JOIN THE MARKETPLACE OF THE BEST TRAINING SCHOOL!!